14 Assorted Gluten Free Leonidas Chocolates
£12.99
199 in stock
Compare

Description
Created with only the purest of ingredients, this delicious gluten-free Leonidas chocolate assortment will delight every taste and desire. All exquisitely decorated and wrapped in smooth milk, white and dark chocolate coating made from 100% cocoa butter.
Packaged in the iconic ballotin gift box, tied with the finest Leonidas ribbon and your Free personal gift message. All the chocolates below are gluten-free but Leonidas products are made in a factory where gluten is present.
Dark Chocolate  Eve (Vanilla)
Milk Chocolate  Eve (Banana)
Dark Chocolate I Love You (Lemon)
Milk Chocolate Delice (Coconut)
White Chocolate Desiree (Pineapple)
Milk Chocolate Petit Coeur (Vanilla Cream)
White Chocolate (Pink) Petit Coeur (Raspberry Cream)
Milk Chocolate Dresse Noisette
Milk Chocolate Ganache  (Pure Ganache)
Dark Chocolate Palet (Praline)
Dark Chocolate Floranger (Ganache Orange  Blossom)
Milk Chocolate Avelanne (Hazelnut Cream Ganache)
White Chocolate Irresistible (Strawberry & Rhubarb Butter Cream)
Dark Chocolate Duetto ( Strawberry and Balsamic vinegar)
White Chocolate Duetto (Dragonfruit & Yuzu Ganache)
Milk Chocolate Duetto (Milk Nougat & Sesame Seeds)
Dark Chocolate Cerise Emballee
Dark Chocolate Cerisette
Dark Chocolate Advocaat
Dark Chocolate Feuille
Milk Chocolate Napolitain
White Chocolate Napolitain
Dark Chocolate Napolitain Nibs (pieces of cocoa beans)
Dark Chocolate Napolitain 72% Sao-Tome
Dark Chocolate Napolitain Orange
Dark  Chocolate Alexandre Le Grande (Plain Caramel)
Milk Chocolate Alexandre Le Grande (Orange Caramel)
Dark Chocolate Bretagne (Salty Butter Caramel)
Milk Chocolate Bergamote (Green Tea Caramel)
Dark Chocolate Mystere (Pistachio)
White Chocolate Irresistible (Strawberry)
Milk Chocolate Forever Emballe Dore (Coffee)
White Chocolate Pistachio Ganache Pearl
Dark Chocolate Orange Ganache Pearl
Milk Chocolate Coconut Ganache Pearl
Milk Chocolate Raspberry Ganache Pearl
Dark Chocolate Noir De Noir (Dark Ganache)
Dark Chocolate Mendiants
Milk Chocolate Mendiants
White Chocolate Mendiants
Dark Chocolate Orangettes
FREE delivery: orders £25 and above.
Orders placed before 12:30 pm Monday to Friday, dispatched same day.
UK Delivery with Royal Mail, First Class Post, normally 2-4 working days, not guarantee.
600g £2.99
900g £3.50
1250g £4.50
1750g £5.50
2000g £8.50
Next Day, Royal Mail Special Delivery, order before 1.30 pm, depending on location can take 1-2 working days. Requires a signature on delivery. FREE next-day delivery, overs over 2 kilos.
300g £4.99
400g £5.50
500g £5.99
700g £6.99
1000g £7.99
2000g £8.99
Signed delivery with Royal Mail, FREE on all orders over £50
500g £3.50
800g £4.50
1000g £5.50
Jersey Delivery: All sent next day
300g £1.99
500g £2.50
700g £2.99
3000g £3.50
Click and collect: Ready in Store next Day
Orders wrapped in tissue paper, for a gift presentation. Packed in specially-designed outer polystyrene casing in our warmer months or environment friendly cardboard boxes & padded envelopes.
See chocolate delivery page for full posting details and prices.
To pre-order, please specify your desired dispatch date (not delivery date) in comments section at checkout.
Additional information
Ingredients
Sweeteners (Maltitol, Sorbitol), Cocoa butter, Cocoa mass, Whole milk powder, Hazelnuts, Water, Butter, Pieces of roasted cocoa beans, Rice flour, Flavouring, Emulsifier: Soya lecithin, inulin, Preservative (potassium sorbate), coffee. With milk chocolate (cocoa solids min. 31%, milk solids min. 21%), dark chocolate (cocoa solids min. 52%), white chocolate (cocoa solids min. 26%, milk solids min. 22%) Contain traces of tree nuts (hazelnuts, almonds, pistachios, walnuts.)
| | |
| --- | --- |
| Lifestyle & Diet | Gluten free |
| Weight | 0.30kg |
Ribbon, FREE
Gold Wrap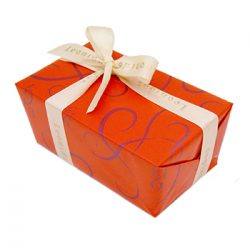 Red Wrap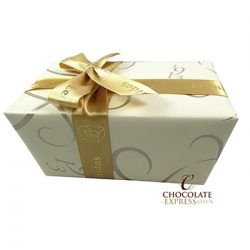 Cream Wrap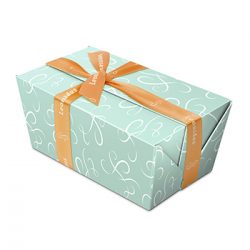 Turquoise Wrap
Christmas Gift Wrap 1
Christmas Gift Wrap 2
Easter Gift Wrap 1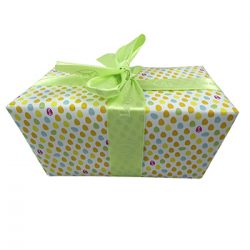 Easter Gift Wrap 2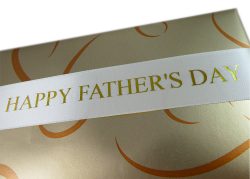 Father's Day Ribbon with Gift Wrap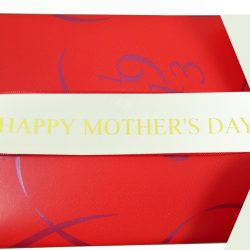 Mother's Day Ribbon with Gift Wrap
Valentine's Day Ribbon with Gift Wrap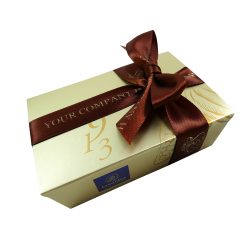 Bespoke Ribbon (your company) with Gift Wrap
Thank You Ribbon with Gift Wrap
Birthday Ribbon with Gift Wrap