14 Noir De Noir, Dark Intense Ganache
£11.99
995 in stock
Compare

Description
The Leonidas ganaches are a rich velvety chocolate experience. The ganache is pure ganache wrapped in luxury dark chocolate.
This fine, silky, rich chocolate ganache mixture is made by combining chocolate and boiling cream or liqueur. The darkest desire exudes a strong and spicy flavour. This chocolate ganache is filled with intense dark chocolate and offers a spicy variation on the theme of dark chocolate. It will certainly please those who love bitter tastes. This luxury dark chocolate is Gluten-free and contains no alcohol.
Our Belgian chocolates are handpicked and packaged in the iconic Belgian ballotin gold chocolate gift box. Hand-tied with luxury branded ribbon and your free personal gift message. Beautiful gift wrapping, in various colour and styles, can be added to complete your perfect chocolate gift box.
Earn loyalty points on each order to receive great discounts.
FREE First Class delivery on orders over £25
Orders placed before 1pm Monday to Friday, dispatched the same day.
Orders under £25 will be charged for delivery.
UK Delivery with Royal Mail, First Class Post, normally 3-5 working days, not guaranteed. As with all First Class Post, the delivery date is NOT GUARANTEED and may take up to 5 working days.
600g £2.99
900g £3.50
1250g £4.50
1750g £5.50
2000g £8.50
Next Day, Royal Mail Special Delivery, order before 1pm, depending on location can take 1-2 working days. Requires a signature on delivery. Royal Mail does not guarantee this next day service, but it very rarely lets us down. To track your order please visit www.royalmail.com/track-trace/ and enter your 13 character reference.
300g £3.75
400g £3.99
500g £4.50
600g £4.50
700g £4.99
800g £4.99
900g £4.99
1000g £5.50
1250g £5.99
1500g £6.50
2000g £7.75
Jersey Delivery: 1 – 2 Days
300g £1.90
500g £2.50
700g £2.99
3000g £3.50
Click and collect: Ready in Store next Day
Orders wrapped in tissue paper, for a gift presentation. Packed in specially-designed outer polystyrene casing in warmer months or environment-friendly cardboard boxes.
To pre-order, please specify your desired dispatch date (not delivery date) in the comments section at checkout.
Additional information
Ingredients
Please scroll down for chosen product ingredient
Assorted Chocolate Ingredients ONLY
Sugar, Cocoa mass, Cocoa butter, Whole milk powder, Hazelnuts, Water, Butter, Glucose syrup, Almonds, Milk cream, Anhydrous Butter, Humectant: sorbitol syrup, Emulsifier: Soya lecithin, Honey, Inverted sugar, Glucose-fructose syrup, Dextrose, Sweetened condensed milk, Shredded coconut, Flavouring, Humectant: sorbitol, Candied fruit (orange, melon), Caramel powder with milk fat (skimmed) powder, Whey powder (milk), Sugar anhydrous milk fat, Natural vanilla flavouring, Rice flour, Speculoos (Wheat flour, Cane sugar, Butter, Honey, Soya flour, Sodium bicarbonate, Cinnamon), Strawberries, Whole milk, Wheat flour, Bitter almonds, Acidifiers (critic acid, malic acid, sodium citrate), Raspberries, Humectant: xylitol, Coffee, Infused of hibiscus flower, Pistachios, Elderberry powder, Almond milk (Almonds, Sugar, Maltodextrin, Soya bean, Antioxidant: ascorbyl palmitate, Anticaking agent: silicon oxide), Peach puree, Pieces of roasted cocoa beans, Coconut oil, Concentrated raspberry juice, Invertase, Red radish concentrate, Elderberry juice concentrate, Preservative: potassium sorbate, Beet juice, Sesame, Anhydrous milk fat, Colourings (Beetroot red, Concentrated grape, Blueberry, Carrot, blackcurrent, Carmine, Curcumin, Chlorophyl copper complex, Anthocyanin), Skimmed milk powder, Cocoa powder, Caramelised sugar, Orange peel, Salt, Cherry, Concentrated lemon juice, Concentrated black bilberry juice, Wheat malt, Yuzu juice, Sesame oil, Pectin, Lactose, Milk proteins, Cherry juice concentrate, thickners (Pectin, Agar-agar, Xanthan gum), concentrated grapefruit juice, Fruit concentrate, Guerande salt, Balsamic vinegar, Egg white, Malted barley flour, Raising agent: sodium bicarbonate, Concentrated vegetable (carrot, hibiscus), Basil, Paprica extract. With Milk chocolate (cocoa solids min. 30%, Milk solids min. 22%). With dark chocolate (cocoa solids min. 54%). With White chocolate (cocoa solids min. 25%, Milk solids min. 22%)
No Added Sugar Chocolates Ingredients ONLY
Sweeteners (Maltitol, Sorbitol), Cocoa butter, Cocoa mass, Whole milk powder, Hazelnuts, Water, Butter, Pieces of roasted cocoa beans, Rice flour, Flavouring, Emulsifier: Soya lecithin, inulin, Preservative (potassium sorbate), coffee. With milk chocolate (cocoa solids min. 31%, milk solids min. 21%), dark chocolate (cocoa solids min. 52%), white chocolate (cocoa solids min. 26%, milk solids min. 22%) Contain traces of Tree nuts (hazelnuts, almonds, pistachios, walnuts.)
| | |
| --- | --- |
| Weight | 0.25kg |
| Lifestyle & Diet | Gluten free |
Ribbon, FREE
Gold Wrap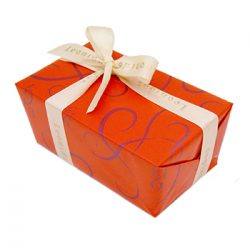 Red Wrap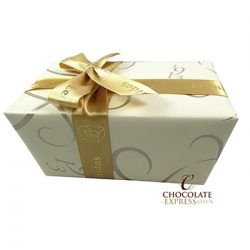 Cream Wrap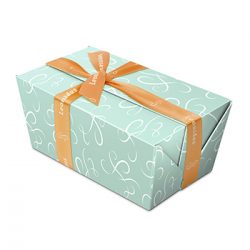 Turquoise Wrap
Christmas Gift Wrap 1
Christmas Gift Wrap 2
Easter Gift Wrap 1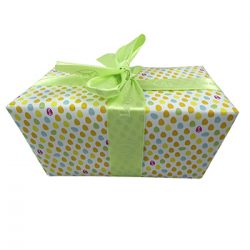 Easter Gift Wrap 2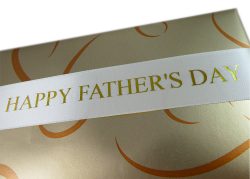 Father's Day Ribbon with Gift Wrap
Happy Easter Ribbon with Gift Wrap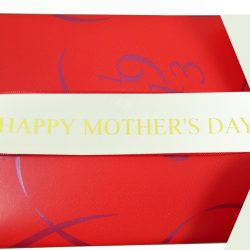 Mother's Day Ribbon with Gift Wrap
Valentine's Day Ribbon with Gift Wrap
Birthday Ribbon with Gift Wrap
Thank You Ribbon with Gift Wrap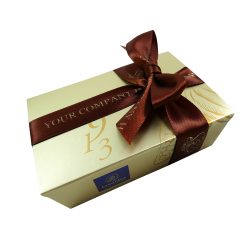 Bespoke Ribbon (your message/name/company) with Gift Wrap