Choose Your Own Leonidas Easter Hamper
£37.99
View & customise your perfect selection by clicking the "Choose Your Selection" box.
Due to the handmade nature of the chocolates, they'll vary in weight and sizing, we can only include a limited number of the highlighted chocolates per box, including Manon Cafés and Dresse Noisette.
Choose your selection
Compare

Description
A tantalising assortment of mini eggs, chocolates, bars and wonderful Easter figures;
x1 Large Chocolate Bar (100g) – Choose from the following flavours:
Orange: an exotic blend of orange and dark chocolate with 54% cocoa
Dark raspberry: a blend of raspberry and pure, rich dark chocolate with 54% cocoa
Dark: dark chocolate with 70% African cocoa
Dark: dark chocolate with 85% African cocoa
Dark Nibs: dark chocolate with 54% nibs
Milk chocolate with Salted Caramel: delectable milk chocolate containing irresistible salted caramel
Milk chocolate with Salted Almonds: smooth milk chocolate, 30% cocoa, with delicious salted almonds
Milk chocolate hazelnut: smooth and delicious milk chocolate containing 30% cocoa
Milk: milk chocolate with 30% African cocoa
White chocolate: crunchy puffed rice
x1 Chunky Leonidas Chocolate Bar (50g) – Choose from the following flavours:
Milk Salted Caramel: Caramel made with salted butter from France under a layer of delicious milk chocolate
Milk Praline Hazelnuts: A fine hazelnut praline covered with soft milk chocolate
Milk Praline Almonds: A fine almond praline covered with delicious milk chocolate
White Mocha Pearls: Crunchy beads with a coffee flavour covered in white chocolate
Blond, Crunchy Puffed Rice: Creamy white chocolate with a crunchy puffed rice centre
Dark Raspberry: Raspberries and pure chocolate with 45% cocoa content
Dark Praline Coffee: An intense dark chocolate, combined with a coffee praline
Dark Praline Hazelnuts: A fine hazelnut praline covered with smooth dark chocolate
x1 Assorted Box of 6-8 Fresh Leonidas Chocolates  – Choose your own, please see our flavour guide
x15 Assorted Leonidas Mini Eggs – Choose Your Own from the following flavours:
Rustic Gold: Milk and white-blond ganache with sugar crystals (NEW)
Teal: Milk cookies and cream
Bright Blue: Solid milk chocolate
Light Gold: Milk praline and biscuit
Hot Pink: Milk popping candy
Baby Blue: Milk chocolate caramel
Purple: Milk hazelnuts paste
Orange: Milk chocolate praline
Dark blue: Milk vanilla cream
Brown: Dark chocolate
Bronze: Dark praline with caramelised nuts
Red: Dark chocolate with raspberry
Yellow: Dark chocolate with lemon
Light Brown: Dark chocolate with Tiramisu
Black: Dark Sao Tome 72% cocoa
Old Gold: White Manon cream
White: Solid white chocolate
Silver: White praliné and puffed rice
Lime green: White pistachio
Baby Pink: White chocolate with raspberry ganache
x1 Leonidas Milk Bunny
x 1 Leonidas Milk Chocolate Chick
x 1 Leonidas Milk Chocolate Rooster
x1 Leonidas White or Milk Chocolate Egg
Earn loyalty points on each order to receive great discounts.
FREE delivery: orders £25 and above.
Orders placed before 12:30 pm Monday to Friday, dispatched same day.
UK Delivery with Royal Mail, First Class Post, normally 2-4 working days, not guarantee.
600g £2.99
900g £3.50
1250g £4.50
1750g £5.50
2000g £8.50
Next Day, Royal Mail Special Delivery, order before 1.30 pm, depending on location can take 1-2 working days. Requires a signature on delivery. FREE next-day delivery, overs over 2 kilos.
300g £4.99
400g £5.50
500g £5.99
700g £6.99
1000g £7.99
2000g £8.99
Signed delivery with Royal Mail, FREE on all orders over £50
500g £3.50
800g £4.50
1000g £5.50
Jersey Delivery: All sent next day
300g £1.99
500g £2.50
700g £2.99
3000g £3.50
Click and collect: Ready in Store next Day
Orders wrapped in tissue paper, for a gift presentation. Packed in specially-designed outer polystyrene casing in our warmer months or environment friendly cardboard boxes & padded envelopes.
See chocolate delivery page for full posting details and prices.
To pre-order, please specify your desired dispatch date (not delivery date) in comments section at checkout.
Additional information
Ingredients
Sweeteners (Maltitol, Sorbitol), Cocoa butter, Cocoa mass, Whole milk powder, Hazelnuts, Water, Butter, Pieces of roasted cocoa beans, Rice flour, Flavouring, Emulsifier: Soya lecithin, inulin, Preservative (potassium sorbate), coffee. With milk chocolate (cocoa solids min. 31%, milk solids min. 21%), dark chocolate (cocoa solids min. 52%), white chocolate (cocoa solids min. 26%, milk solids min. 22%) Contain traces of tree nuts (hazelnuts, almonds, pistachios, walnuts.)
Ribbon, FREE
Gold Wrap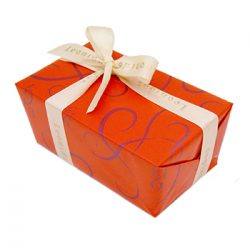 Red Wrap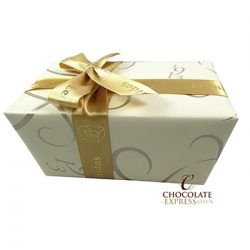 Cream Wrap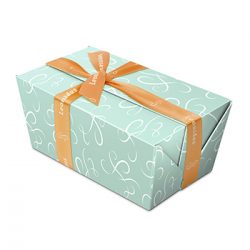 Turquoise Wrap
Christmas Gift Wrap 1
Christmas Gift Wrap 2
Easter Gift Wrap 1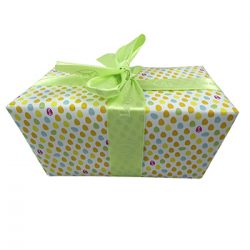 Easter Gift Wrap 2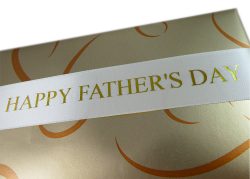 Father's Day Ribbon with Gift Wrap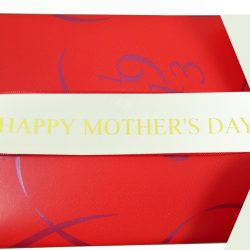 Mother's Day Ribbon with Gift Wrap
Valentine's Day Ribbon with Gift Wrap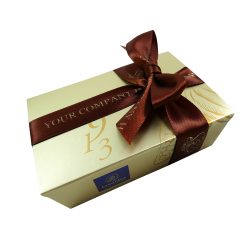 Bespoke Ribbon (your company) with Gift Wrap
Thank You Ribbon with Gift Wrap
Birthday Ribbon with Gift Wrap