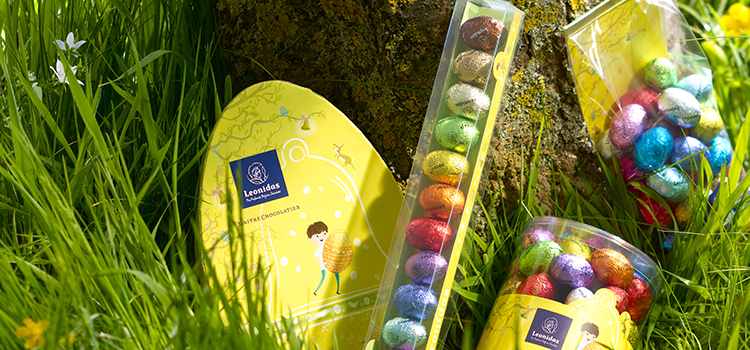 Easter is fast approaching, a time of year when chocolate is in abundance. At Chocolate Express, this is no exception. We have a wealth of eggs-citing options for you this Easter. Hunt no further. 
If you haven't yet tasted our Leonidas mini eggs, you really are missing out. We have 19 uniquely flavoured mini eggs, from all the new Milk Cookies & Cream to old favourites such as White manon cream, launched in 2018, White pistachio, Dark Tiramisu and Milk caramel, not to mention Dark praline & caramelised nuts.
Leonidas stands out in the world of Belgian chocolate, distinguished by the most notable of chocolate connoisseurs, a feat not easy to accomplish. Leonidas mini eggs also stand out, from a vast sea of smaller mini eggs which appear at this time of year. They are guaranteed to enchant, whether the recipient is young or old and whether they have a penchant for white, milk or dark chocolate.
Whether you opt for them to be bursting out of a luxurious chocolate shell or tucked away inside a delightful gift box of your choosing, these mini eggs are a family favourite as there is something to suit everyone.
Furthermore, those of you who are watching your waistline before the Easter chocolate feast begins, be sure to check out our No Added Sugar mini eggs. These tempting morsels are perfect for the health conscious among you, created from the purest of ingredients. Not only are they made from 100% natural products, derived from natural cereals but they also have fewer calories than sugar and are recommended for diabetics.
These foil wrapped eggs come in milk, dark & white chocolate as follows:
White: Solid white chocolate
Silver: White praliné & puffed rice
Lime Green: White pistachio
Coffee Cream: Dark tiramisu
Yellow: Dark lemon
Brown: Solid dark chocolate
Light Brown: Dark praliné & caramelised nuts
Orange: Milk nougat
Black: Dark Sao Tome 72% cocoa
Pink: Milk popping candy
Gold: Milk praline & biscuit
Light Blue: Milk caramel
Red: Dark raspberry
Dark Blue: Milk vanilla
Electric Blue: Solid milk chocolate
Purple: Milk hazelnut paste
Baby Pink: White raspberry
Old Gold: White Manon cream
Teal: Milk cookies & cream
With the ability to earn loyalty points and receive great discounts on each order both at Easter and all year round, the question that remains is: which eggs will you choose?
---